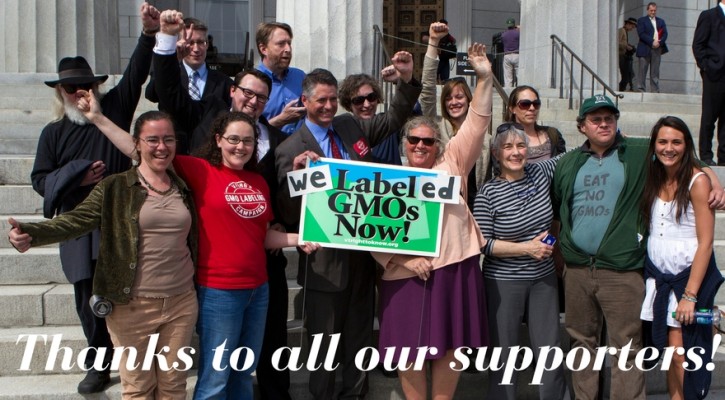 Together, we changed the food system!
August 4, 2016
As you may have heard within the last week, President Obama signed the so called "DARK Act" that overrides Vermont's GMO labeling law, and the Vermont Attorney General announced that our law will no longer be enforced. Despite this heartbreaking turn of events, we should ALL be incredibly proud of what we accomplished over the past few years.
Today, if you go into grocery stores in Vermont and across the nation you will find genetically engineered foods labeled for the first time – Vermont was a driving force in making that happen. National food manufacturers like Campbell's and Mars have announced that they will continue to label their products, and others are expected to follow suit. Vermont has also successfully defended our law in court, bolstering consumers' right to know about what is in a wide range of products on our store shelves.
In the end, a lot more people know what is in their food because of what we did here in Vermont.
This all begs the question "What's next"? The campaign for transparency and fairness in our food system is not going to end, but the playing field is shifting. For example, over the next two years our VT Right to Know GMOs Coalition will work with allies across the country to make the new national labeling standard as strong as possible, despite its many substantial flaws. We will also work with consumers to call on companies who labeled their food for Vermont to continue labeling their products as the national standards are being developed.
This campaign has been so inspiring, and it shows once again the amazing impact our small state can have on important national issues. We know that many of you spent countless hours contacting your legislators, attending workshops, and driving to Montpelier to make your voice heard, and we can't thank you enough. None of this would have ever been possible if it was not for the tens of thousands of you, Vermonters and other citizen activists who engaged in our political process demanding that we have a right to know what is in our food.
Change of this magnitude does not come easily or quickly. We have more work to do, but at this historic moment it is important to recognize and celebrate what we all accomplished together, and we thank all of you for helping achieve what many thought was impossible.
Thank you, from all of us at the Vermont Right to Know GMOs team!
Below you will find some more thoughts from our team members about what this news means to each of us.
"The actions taken by the Congress and the President to overturn our labeling laws are deeply troubling, but not surprising. We need to continue to work to create a system where our elected officials represent the public interest, not a handful of wealthy special interests." Falko Schilling, VPIRG Consumer and Environmental Advocate
"We are committed to creating a transparent and just food system. The fact that the federal sham GMO Labeling law has also wiped out Vermont's long-standing GE Seed Labeling law is an affront to states' rights and farmers' that we will work to overcome."   Andrea Stander, Rural Vermont Director
"Vermont's long-standing seed labeling law, also nullified by the DARK Act, is an area of deep concern. The law served well to inform consumers and growers about the seeds they are purchasing and provided much needed data to the Agency of Food and Markets giving Vermont the ability to track genetically engineered seed sales in the state." Cat Buxton, Food Systems Consulting LLC.
"While we are deeply disappointed that this flawed, discriminatory, and anti-consumer bill is now law, this fight is far from over. We will continue to work tirelessly for a food system with integrity, transparency, and one that demonstrates respect for the land that sustains us all." Maddie Monty, Policy Advisor NOFA-VT