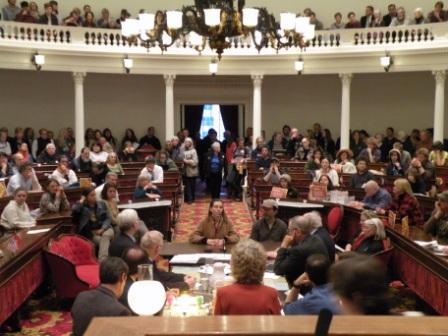 Speak out in support of GMO Labeling next Thursday
January 29, 2014
Last year we filled the well of the State House with citizens from all corners of Vermont. They helped us raise the volume of grassroots voices calling fro commonsense labeling of GMOs. This is the year we can make that happen – and we've got another chance next week to make sure YOUR voice is heard by the State Senators who will cast the critical votes to make this happen. 
We're mobilizing hundreds of Vermonters from Averill to Bennington to Wilmington to Vernon and everywhere in between to come to the public hearing on GMO labeling this coming Thursday, Feb. 6th from 6 to 8pm at the State House. We hope you can join us. We'll be helping to arrange transportation, carpools and even housing fro those that want to make the trip to take part in this momentous opportunity to let legislators hear directly from you.
Download the poster and help us spread the word.