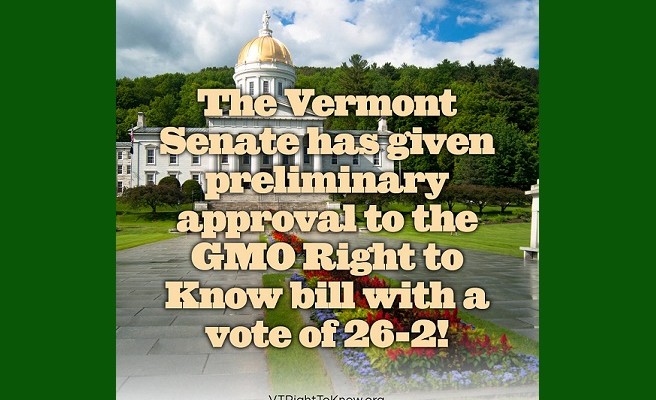 Senate Gives Preliminary Approval to H.112!
April 15, 2014
On Tuesday the Vermont Senate gave preliminary approval to the GMO labeling bill, by a stong margin of 26-2! After nearly two hours of discussion, the majority of our senators stood with us in supporting H.112, accepting all the amendments as passed by the committees. The bill remains without a trigger, and if enacted would go into effect in July of 2016, setting the course for Vermont to become the first state in the nation to label genetically modified foods!
Want to find out how your senator voted? Check out the roll call from Tuesday's vote, and consider writing a letter to the editor thanking your senator for their support!
The bill will be read a third time Wednesday afternoon, at which point the final vote will likely occur.
Listen to the VPR story here:
P.S. Mark your calendars for next Tueday, April 22nd! In celebration of Earth Day, we are organizing "honk and waves" throughout the state (and beyond) where you can show your support for, and raise awareness of, the GMO Labeling bill! Stay tuned for more information!