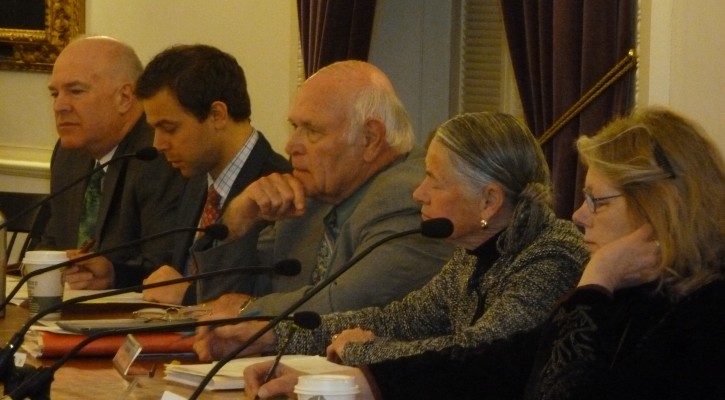 Senate Committee Hears Testimony on GMO Labeling
March 21, 2014
Wednesday morning the Senate Judiciary committee met to hear testimony from expert witnesses regarding the GMO Labeling bill, mostly regarding the constitutionality of the bill and the potential legal challenges faced by Vermont should H.112 be passed.
There was some opposition to the bill being voiced at this hearing. Stanley Abramson , a lobbyist representing the biotech industry, opposed the bill saying that GMO labeling would be "misleading" since it implies a difference between GMO and non-GMO foods. Val Giddings of the Information Technology Foundation argued that consumers can already choose non-GMO foods by buying organic or "Non-GMO Project" certified foods.
To counter these arguments, Laura Murphy, a professor at Vermont Law School's environmental law clinic, testified in favor of the bill. She noted that the bill as written is constitutional and would have a good chance of withstanding a challenge in the courts. VPIRG's Falko Schilling echoed this sentiment, noting that "we think since the state of Vermont has adopted the concerns of their citizens having to do with health, safety and the environment, what makes the most sense is to say let's just go forward and put this law into effect since we have done the work to vet it and make sure it's constitutional."
For more information about the constitutionality of H.112, you can check out this memorandum from the Environmental & Natural Resources Law Clinic, as well as these factsheets, one with a brief Q&A about legal precedence for the bill, and the other a more detailed outline of H.112′s legal points.
The committee will meet again this morning to further discuss the bill. Read more about Wednesday's hearing at vtdigger.com, and listen below to a recent WAMC radio piece featuring members of the VTRTK coalition: