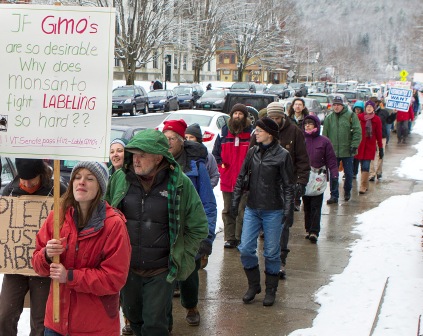 Your Right to Know is Under Attack
June 13, 2014
On Thursday June 12 the Grocery Manufacturers Association and their allies filed a lawsuit to stop Vermont from being the first state in the nation to require labels on GMO foods. This is a direct assault on Vermonters' right to know what is in their food. This news is upsetting but not unexpected, and as we speak the State and members of the Vermont Right to Know GMOs coalition are working to mount a strong defense of the law. Vermont has written a strong and constitutional law, and with your help we can make sure we see labels on GMO foods.
The VT Right to Know Coalition will be joining Ben and Jerry's and the Governor to rally at the Ben and Jerry's scoop shop on Church Street in Burlington on Monday the 16th at 2:00 in support of our GMO labeling law and the Food Fight Fund! Come out bring your friends and a homemade sign, and show the GMA we aren't afraid of their strong arm tactics. This will be a great chance to show your support, and we hope you will join us.
Hope to see you ¬¬Monday at 2:00 on Church Street in Burlington for the rally, and if you can't come please make a donation in any amount to the Food Fight Fund to support your right to know!