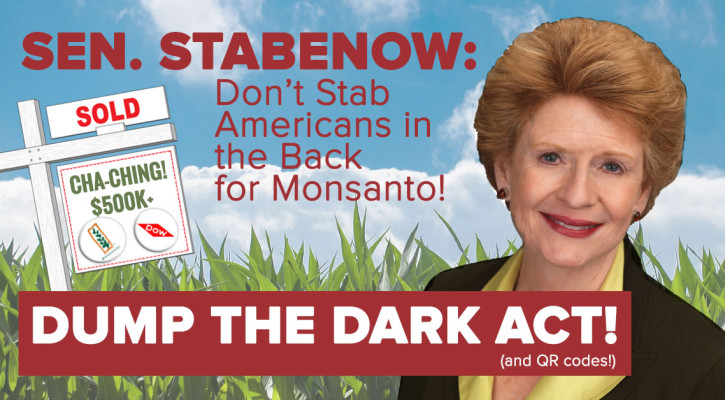 No rest in the fight to label GMOs
May 2, 2016
A little over a week ago, proposals were made in the Vermont State House that would have opened up our GMO labeling law to several changes. Thanks to your calls, emails, and the work of our supporters, we were able to fight off the proposals that could have affected the law's implementation! The budget does contain a provision that would delay a citizen's ability to bring a lawsuit under Act 120 for one year, but it does nothing to stop the Attorney General from enforcing the law or push back the law's start date. We will keep fighting in Vermont to make sure our law remains strong, and will let you know if we need more calls to fight back industry proposals.
Unfortunately, once again we need to turn our focus to Washington D.C., where corporate food lobbyists continue to try to pass legislation to preempt Vermont's labeling law before it goes into effect on July 1st.
Big Food and Senator Debbie Stabenow are pushing a proposal to replace Vermont's clear on-package labeling law with ineffective "QR Codes". QR Codes are similar to bar codes and would require consumers to have a smart phone, the correct application, internet service and the time to scan each product and visit companies' websites to find out if their food is genetically engineered. All of this to avoid putting clear labeling on food packages.
We are just months away from Vermont's first-in-the-nation GMO labeling law going into effect, and we need your help to fight off this one last push from the big food lobby. Please take a minute and join our friends at the Center for Food Safety in calling on Senator Stabenow to say NO to a QR code compromise.