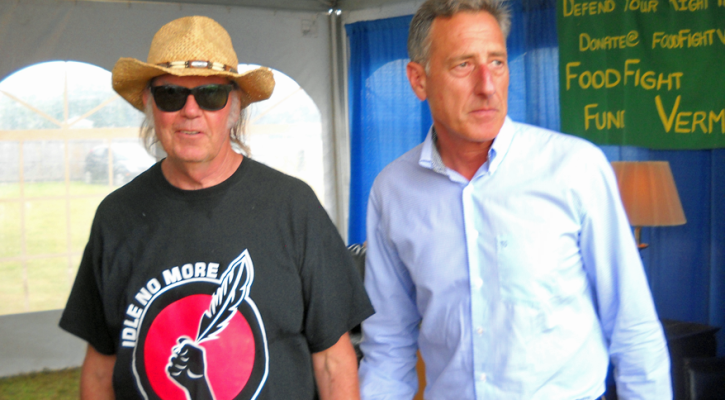 Neil Young pledges $100,000 to help Vermont Label GMOs
July 21, 2015
When Neil Young's Rebel Content Tour came to Vermont they wanted to do more than just rock, they wanted to make sure Vermonters will know if their food is genetically engineered. In a backstage pre-show press conference Young joined Governor Peter Shumlin to promote Vermont's GMO Food Labeling law and pledged $100,000 to the VT Food Fight Fund to support the law's implementation and defense.
In 2014 Vermont passed the first in the nation no-strings-attached GMO labeling law and was almost immediately sued by a consortium of corporate special interests. Neil Young, a big supporter of consumers' right to know, then announced that he would be boycotting Starbucks because of their membership in the Grocery Manufacturers Association, the lead trade group suing the state.
In a Rolling Stone interview Young was quoted saying, "There's much more at stake here than just whether GMO foods will be labeled in a single U.S. state. Vermont is the very first state in the U.S. to require labeling. Dozens of other states have said that they will follow this path – in order to encourage this, we need to ensure that Vermont's law stands strong."
Young threw even more support behind Vermont's labeling effort in a song on his new album The Monsanto Years titled "A Rock Star Bucks A Coffee Shop." In the song, Young talks about Starbucks and the VT lawsuit singing, "When the people of Vermont wanted to label food with GMOs/They sued the state of Vermont to overturn the people's will."
When Young arrived in Vermont he coordinated with the governor and members of the Vermont Right to Know Coalition to set up a special press conference before he took to the stage. Governor
Shumlin thanked the thousands who had helped pass the labeling law before appealing for support for the state's efforts to defend the law.
When Young took the podium he spoke simply saying, "I'm just a rocker who believes people should know what they're eating." He then pledged $100,000 from the profits of his Vermont show to the Food Fight Fund, which supports the defense and implementation of Vermont's labeling law.
Later in the evening the concert audience erupted with cheers and applause when Young shouted from the stage "Vermont — standing up where other states are laying down." The set then continued with energized renditions of selections from his full catalog as well as The Monsanto Years. The evening was capped with a special rendition of "Moonlight in Vermont" performed by Lukas Nelson, son of Willie Nelson.
Vermont continues its legal battle as it prepares to respond to the industrial food manufacturers' legal strategy to stop the labeling law from going in to place. Make sure to check back for the latest on the campaign, and please join Neil in donating to the Food Fight Fund by clicking here.