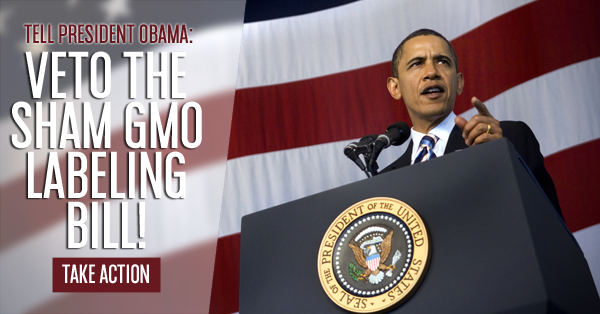 Pres. Obama: veto the sham GMO labeling bill!
July 12, 2016
The U.S. Senate voted late last Thursday night in favor of a sham GMO labeling bill that will eliminate Vermont's genetically engineered food and seed labeling laws.
The Senate bill will leave a significant number of GE products unlabeled due to a definition of "bioengineered food" that even the FDA has called into question. Companies will also be able to opt out of clear accessible on-package labeling by using digital "QR" codes that will be unreadable by approximately half of rural and low income Americans without access to smartphones or cell service. Beyond all of this, there are no penalties for lack of compliance, and no authority to recall products that are not properly labeled.
Take a minute and use our online action form to ask President Obama to veto this bill!
The bill passed by the Senate is nothing but an industry giveaway, and we need to call on President Obama to veto it if it reaches his desk.
The bill will now head to the House of Representatives where VT Congressman Peter Welch has pledged to do everything he can to try and defeat it. We don't know what will happen in the House, and that's why we're asking you to write to the President urging him to veto the Roberts-Stabenow bill or any other sham GMO Labeling bill if it reaches his desk.
In 2007, as a presidential candidate, then-Senator Obama said "…we'll let folks know if their food has been genetically modified because Americans should know what they are buying." Now it is time for the President to live up to his campaign promise and veto this legislation aimed at keeping consumers in the dark about what is in the food they eat and feed their families.
With our allies across the country we have a goal of sending a million messages to the President. 
Please take a minute and contact the White House today!
From the Center for Food Safety:
FDA strongly criticizes Stabenow-Roberts draft GMO labeling bill 
Memo on the discriminatory nature of QR codes and the Dark Act