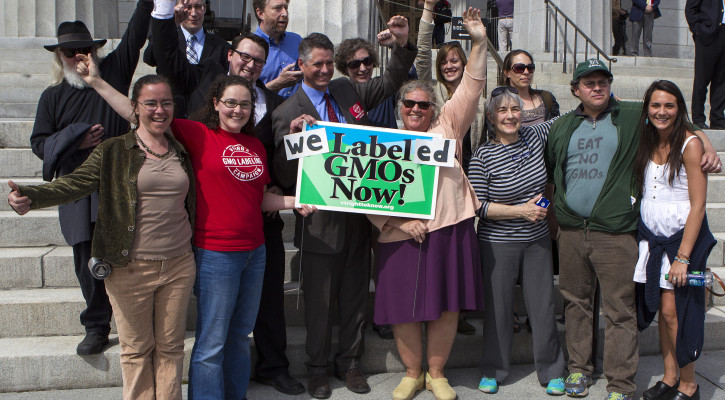 We Labeled GMOs!
May 9, 2014
It was a good day in Montpelier yesterday, and not just because the sun was shining bright and warm. On May 8th, Governor Shumlin signed Vermont's GMO labeling bill into law making Vermont the first state that will require labels on genetically engineered foods! The law will require labels on genetically engineered foods (also called genetically modified organisms, or GMOs) sold at retail outlets in Vermont, and will go in to effect on July 1st 2016. The law would also prohibit labeling products produced with genetic engineering as "natural", "100% natural" or "all natural".
The bill signing took place on a beautiful afternoon on the State House steps, was well attended, and was followed by a celebration accompanied by several musical performances and Ben and Jerry's scooping free ice cream for all in attendance.
"This is not only a victory for the people of Vermont, it's a victory for the millions of Americans who are demanding the right to know what's in their food," said VPIRG Consumer Protection Advocate Falko Schilling. "Today affirms that when the people stand up and speak with one voice meaningful change can happen."
"This victory, which will benefit everyone who eats, has been a long time coming but it is no less sweet. Rural Vermont is grateful to the thousands of Vermonters who stood up for their right to choose the food that supports their values," said Rural Vermont Executive Director Andrea Stander.
"This law is a testament to the work of thousands of Vermonters over the last two years who strongly believe in the simple right of everyone to have basic information about the food they buy and the agricultural practices their food dollars are supporting," said NOFA-VT Policy Advisor Dave Rogers.
"Democracy is alive in Vermont!" commented Cat Buxton of Cedar Circle Farm. "Our legislators listened to the people, as it should be. We need to do this all over America to wrest back the control over the integrity and health of our food system."
Laura Murphy, Associate Director of the Environmental and Natural Resources Law Clinic at Vermont Law School, commented on the bill signing saying "The clinic was proud and honored to be a part of this process in Vermont, and to help make the legal case for the bill.
We couldn't have done it without all of you! Thank you all for your support, your continued involvement, and most of all, your passion.  Not only did you make this happen here in Vermont, but you've helped to provide an inspiration and a model for the rest of the country to follow. We did it!