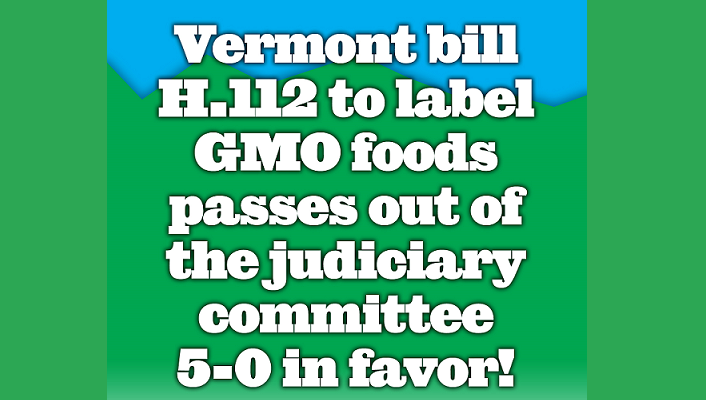 Judiciary Committee Unanimously Passes H.112!
April 3, 2014
Today was a big day in the push to label GMO foods in Vermont. The Senate Judiciary Committee voted 5-0 to move H.112 forward. The bill would put labels on GMO foods starting July 1st, 2016, independent of the action of other states!
The bill will be moving on to the Appropriations Committee next week and then hopefully to the Senate Floor. The Appropriations Committee will look at how to create a fund for individuals to contribute to help with implementation of the law. This fund will give people the opportunity to contribute towards the bill's legal defense, but will not act as barrier for the bill going into effect. Any money contributed will only strengthen and supplement the funds used by the Attorney General.
Members of the Judiciary Committee worked tirelessly throughout the month of March to craft H.112 into an even stronger, more defensible bill. They unanimously voted in support of labeling GMO foods and Vermonters' right to know. Contact and communication from great supporters like you is what helped your Senator make the right decision. Please let them know you appreciate their hard work. Sign on to show the Senate Judiciary Committee your gratitude!   You can make sure other Senators in your district also stand up for your right to know by contacting them personally. Click here to reach out to your other Senators.
The campaign is looking good, folks! To date, over 36,000 people and 236 businesses have signed on in support of the bill, either through a physical sign-on or via our online petition.  And we've had 22 letters to the editor published in support of H.112. At this crucial stage in the campaign, please consider taking a few minutes to make this number even bigger and let your community know why you want to see labels on GMO foods! Tell your story in a brief letter to the editor of your local paper - you will help start a conversation with your neighbors and you will get the attention of our legislators.
Stay tuned to our
 Facebook page
and 
website
 for the latest in the Appropriations Committee and when Senators will begin debating the bill on the Senate floor. If the bill passes out of the Senate then we will have to go back to the House of Representatives before going to the Governor's desk. Vermont is poised to be the first State in the nation to see labels on GMO foods.
WCAX.COM Local Vermont News, Weather and Sports-