Monthly Archives: July 2016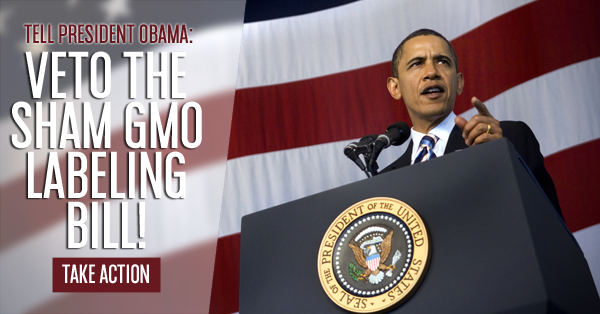 The U.S. Senate voted late last Thursday night in favor of a sham GMO labeling bill that will eliminate Vermont's genetically engineered food and seed labeling laws.
The Senate bill will leave a significant number of GE products unlabeled due to a definition of "bioengineered food" that even the FDA has called into question. Companies will also be able to opt out of clear accessible on-package labeling by using digital "QR" codes that will be unreadable by approximately half of rural and low income Americans without access to smartphones or cell service. Beyond all of this, there are no penalties for lack of compliance, and no authority to recall products that are not properly labeled.
Take a minute and use our online action form to ask President Obama to veto this bill!
The bill passed by the Senate is nothing but an industry giveaway, and we need to call on President Obama to veto it if it reaches his desk.
The bill will now head to the House of Representatives where VT Congressman Peter Welch has pledged to do everything he can to try and defeat it. We don't know what will happen in the House, and that's why we're asking you to write to the President urging him to veto the Roberts-Stabenow bill or any other sham GMO Labeling bill if it reaches his desk.
In 2007, as a presidential candidate, then-Senator Obama said "…we'll let folks know if their food has been genetically modified because Americans should know what they are buying." Now it is time for the President to live up to his campaign promise and veto this legislation aimed at keeping consumers in the dark about what is in the food they eat and feed their families.
With our allies across the country we have a goal of sending a million messages to the President. 
Please take a minute and contact the White House today!
From the Center for Food Safety:
FDA strongly criticizes Stabenow-Roberts draft GMO labeling bill 
Memo on the discriminatory nature of QR codes and the Dark Act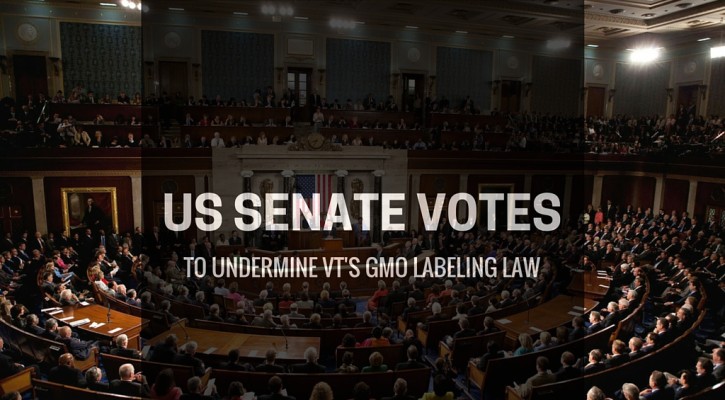 In a late night vote on Thursday, the US Senate passed S. 764, a GMO labeling proposal put forward by Senator Stabenow (D-Mich) and Senator Roberts (R-Kan).
This bill would eliminate Vermont's first-in-the-nation GMO labeling law, and delay any labeling for up to two years while the Secretary of Agriculture develops rules. Food manufacturers would be allowed to label GE products with words, pictures, or a digital code that consumers would have to scan with their smartphones, if they own one and have cell service inside their grocery store. This proposal has a number of substantial flaws and is strongly opposed by the Vermont Right to Know Coalition, Senator Leahy, Senator Sanders, Representative Welch, Governor Shumlin, and consumer and environmental groups around the country.
Andrea Stander, Executive Director of Rural Vermont, an advocacy group for small farmers, reacted to the vote, saying:
"Every Vermonter, and every American who cares about the food they eat and the democracy they live in, should be outraged by what the U.S. Senate just did. This bill is a corporate giveaway masquerading as a GMO labeling 'compromise.' Senate leadership has chosen corporate lobbyists over the 90% of Americans who support labeling. Without a single committee hearing, and allowing for no amendments, they've passed a bill so riddled with loopholes and delays, so unenforceable, that even the FDA has argued it may not lead to a single product being labeled. They should be ashamed."
NOFA Vermont Policy Advisor Maddie Monty responded to last night's outcome, saying, "We are extremely proud of Senator Leahy and Senator Sanders who were steadfast in defending and upholding the will of the people on the Senate floor last night. Unfortunately, corporate food and agribusiness interests have once again outweighed the needs of the American people in Washington. While we are outraged and disappointed by last night's vote, we will remain vigilant in urging the House of Representatives and President Obama to stand with the people and reject this disgraceful, anti-consumer legislation."
VPIRG Consumer and Environmental Advocate Falko Schilling commented on yesterday's vote saying: "It's extremely disappointing to see the Senate vote in support of this sham labeling proposal. This bill is nothing but a corporate giveaway aimed at keeping consumers in the dark about what's in their food. We urge the House of Representatives and the President to reject the Stabenow-Roberts proposal. We also want to thank our congressional delegation for their strong support for a consumer's right to know."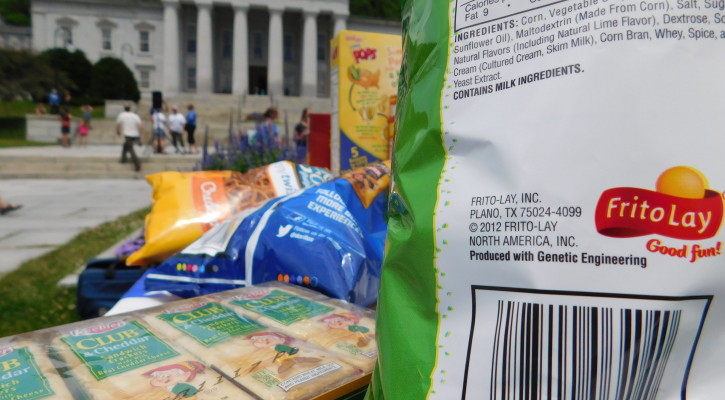 On Friday the Vermont Right to Know GMOs coalition joined Governor Shumlin, Senators Sanders and Leahy, Representative Welch, and supporters from around the country in celebrating Vermont's first-in-the-nation GMO labeling law taking effect!
The celebration took place on the State House lawn, where Governor Shumlin signed the bill into law a little over two years ago. Since the law's passage, we have been successful in defending the law against legal challenges, and manufacturers such as Kraft, General Mills, Pepsi and Campbell's have decided to label genetically engineered products around the country.
"Today's celebration shows once again that Vermont is a place where democracy works. 90% of Americans have consistently asked for labels on genetically engineered food and it took our brave state to step up and put the people's interests over special interests. Whatever happens going forward everyone who helped make history today should be incredibly proud," said VPIRG Consumer and Environmental Advocate Falko Schilling. "Right now consumers across the country are seeing labels on genetically engineered food thanks to the work that we did here."
State Senator David Zuckerman, a long-time advocate of labeling, commented on the event saying, "Today is a great day for grassroots organizing in Vermont.  Thousands of individuals from across Vermont worked together to pass this legislation.  I am proud to have been a part of that effort in my role in the Senate, but the success for this rests on the shoulders of many who care about transparency in our food."
"The enactment of Vermont's GE food labeling law represents a major step forward in food system transparency. We are grateful to everyone in Vermont and beyond who helped to make Act 120 a reality and grateful to our Congressional delegates who continue to fight against efforts in Washington to deny Americans the right to information they need about their food," said NOFA VT Policy Advisor Maddie Monty.
The celebration took place under the shadow of looming federal legislation proposed by Senators Roberts (R-Kan) and Stabenow (D- Mich) aimed at eliminating Vermont's law and replacing it with a national standard that does not require on-package disclosure, does not have penalties for failure to label, and would exclude a significant portion of genetically engineered products from labeling requirements.
"This is a bittersweet day," commented Rural Vermont Executive Director Andrea Stander. "It is thrilling to gather once again with so many of the people who worked SO hard to make Vermont's GMO Labeling law a reality. Rural Vermont has worked tirelessly on this issue for more than twenty years.  We are not surprised and we are outraged that our own Congress continues to work to ignore the concerns and thwart the needs of the people they were elected to represent. This is NOT what democracy looks like and we will never give up the right to know how our food is produced."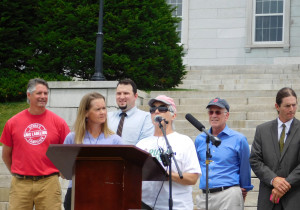 "Our small state has been a pioneer in pushing vigorously for the rights of consumers to know what's in their food. Our labeling law is set to take effect on July 1. It appears Congress has struck a deal that would preempt our law and replace it with a flawed national labeling standard.  While in concept a national standard makes sense, I have deep concerns with the provisions in this legislation," said Governor Shumlin. "I'll be working with Sen. Leahy, Sen. Sanders, and Rep. Welch in the coming days to see if we can remedy the serious defects in this national legislation. If we cannot, this legislation should not become law and I will oppose it."
On Wednesday night the Senate held a preliminary vote to limit debate on the proposal, where Senator Leahy led a floor fight in opposition arguing, "Vermonters want to make informed decisions for their families and with their limited grocery budgets.  We acknowledge that powerful interests are allied against Vermont's law and against the nation's consumers.  That has been a fact from the beginning.  The proposal released last week does not respect the work that Vermont has painstakingly done in this space, and this Vermonter will not – cannot – support it.  Vermonters deserve better.  And so do all Americans."
Senator Sanders voiced strong opposition to the proposal saying, "GMO labeling exists in dozens of countries around the world. It is not controversial. Already major food companies in our country have begun labeling their products. People have a right to know what is in the food they eat. I am going to do everything I can to defeat this legislation."
In a statement, Representative Welch joined his Senate colleagues in criticizing the bill saying, "The so-called GMO labeling compromise reached in the Senate is, in a word, stupid."
Congress will reconvene after the Independence Day holiday and a final Senate vote is expected as early as next week. If the proposal passes the Senate it will need to be approved by the House before being sent to the President's desk. In the meantime food manufacturers will continue to label genetically engineered food products for retail sale in Vermont.
The VT Right to Know coalition has countless organizations, businesses, individuals, and families in Vermont and across the country (and out of the country!) to thank for their hard work and dedication over the years – THANK YOU ALL!